Dreaming of a joint start-up
Simon is a man of many talents. He is not only working on his PhD in entrepreneurship at ESCP Business School, he is also a Senior Consultant at Campana & Schott. Since February 2021, he moreover is the co-founder of JULIANA MARTEJEVS, a DIY fashion label based in Berlin. Simon and his wife Juliana have thought about how to bring her design and his business skills together for a while. The idea of starting a DIY fashion business came spontaneously to them. They quickly checked the internet of whether something like this was out there already – and there wasn't. 
Juliana and Simon applied for EXIST, which is a Germany-wide scholarship for entrepreneurs by the BMWi, the German Federal Ministry for Economic Affairs and Energy, and the European Social Fund. By now, they have two additional team members. Alessa, who is in charge of marketing, social media as well as sales, and Maxi, who works on design, product development, and sustainability.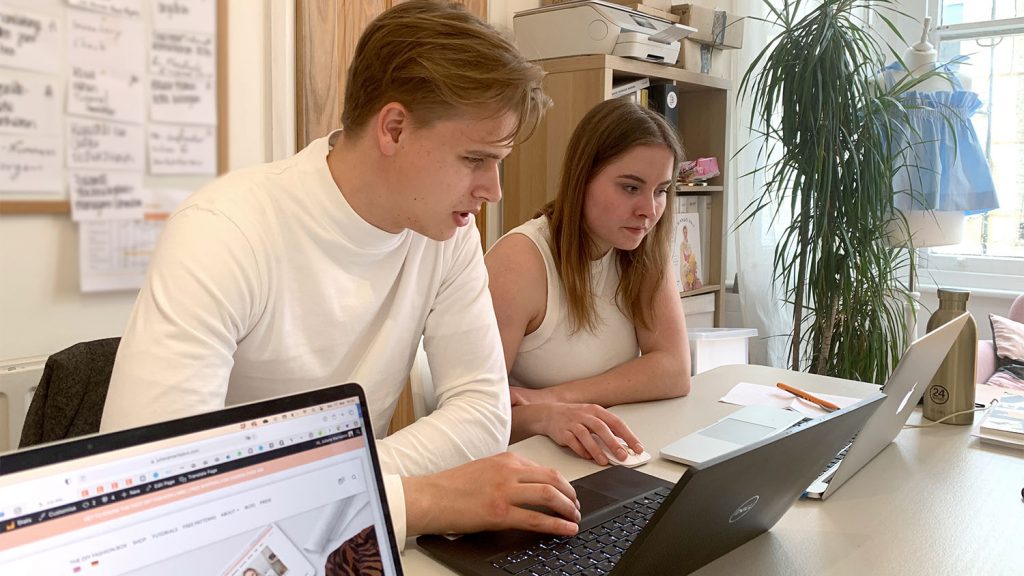 Empowering customers to make their own clothes
This is how JULIANA MARTEJEVS works: As a customer, you first browse through the online shop, and choose a clothing item or accessory that you like. Are you ready to sew or ready to craft? For products from the ready-to-craft collection, no tools are required and you will use knitting, macrame, embroidering or hand sewing techniques. For ready-to-sew pieces, all you need is access to a sewing machine. No prior skills or experience is required for any garment or accessory. After ordering, you receive a DIY fashion box containing all materials that you need on your doorstep. Then, the making begins! In a step-by-step video tutorial, Juliana walks you through the DIY process until your piece is ready.
JULIANA MARTEJEVS hence combines cool designer fashion with the DIY trend and sustainability. As part of their sustainability concept, they encourage customers to make clothes themselves. They also use certified ecological or recycled materials, use recyclable packaging, and reduce fabric waste.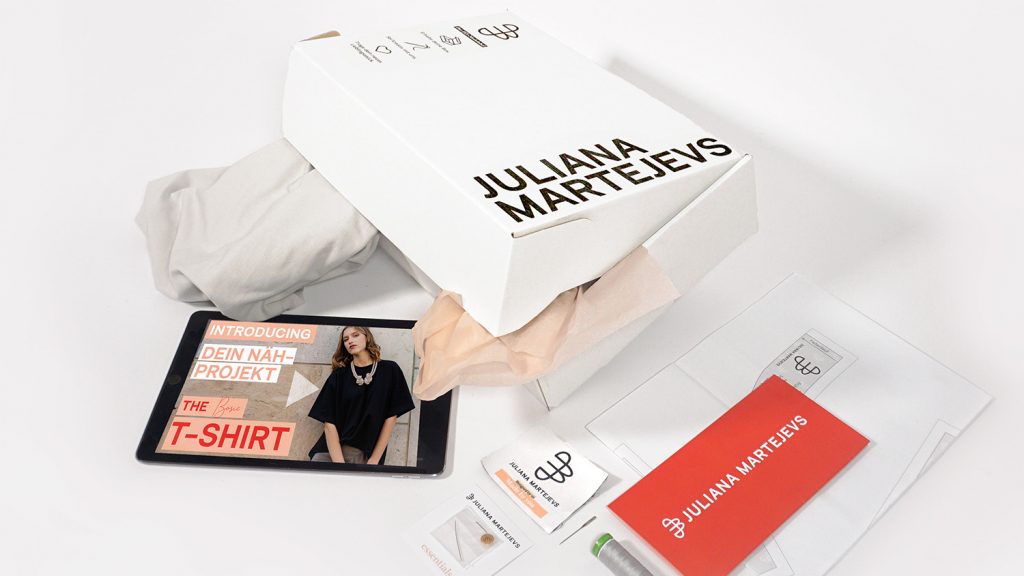 Developing a thriving business
Currently, 15 products are available on the JULIANA MARTEJEVS website, on avocadostore as well as in stores and on fairs. Since they started, the team created an exponential growth of boxes sold. The start-up team has already formed partnerships with renowned sewing machine and thread manufacturers. After working fully remote at first, both designers now work together full-time in Berlin.
What would Simon recommend entrepreneurs-to-be? "One thing I would do differently now is talk to possible partners even earlier. For us, cooperations with sewing machine manufacturers, fabric wholesalers, etc. are on the cards. I approached them extremely early, so a few weeks after launch, when we had the very first products and a first pilot for our website. In retrospect, I could have done it even earlier, for example with the loose idea last year", he said. "Especially in a dusty industry like the DIY sector, large companies are also very open to conversations. So I would advise not only to have the idea challenged by people from the industry (we did that, too), but also to talk about a possible collaboration early on."
Since the EXIST scholarship funding is coming to a close, the JULIANA MARTEJEVS team is now looking for angel investors with experience in the fashion industry, such as fabric manufacturers. If you are interested, feel free to reach out to Simon (snieschke@escp.eu) directly. Moreover, follow @julianamartejevs_official for regular updates. Thank you!