The Jean-Baptiste Say Institute primarily supports start-ups and is engaged in incubation with Blue Factory, a European incubator at ESCP.
Blue Factory supports European entrepreneurs and start-ups at ESCP Business School and beyond with incubation. In the first place, its goal is to accelerate their entrepreneurship projects from ideation to international expansion. The incubator is unique because of its European architecture in Berlin, London, Madrid, Paris and Turin, as well as its involvement in the ESCP campuses. Moreover, it is famous for its supportive and inclusive culture, and the generous commitment of its community and partners. Likewise, it connects hundreds of mentors, coaches and experts. Blue Factory helps entrepreneurs to courageously develop projects that matter to them. Sectors include education, employment, culture, food, real estate and lastly fashion.
Internationalisation School
0
---
Internationalisation Bootcamp 27/28 October 2021
Are you a startup and thinking about entering European markets? Do you want to evaluate whether your startup is ready to internationalise? Do you want to find out about business practices in France, Germany, Italy or Spain?
Join our (virtual) Internationalisation Bootcamp 2021!
What's in for you?
Get ready for country-specific workshops, networking with industry professionals and learn from other startups' mistakes and success stories. To ensure your culinary well-being, ESCP's award winning food and beverage startups will join us for an exciting evening program (at home tasting).
The two day workshop program on 27 and 28 October 2021 will prepare you for the final pitching competition. The winners will join a networking trip to the European country they wish to internationalise to (within Europe).
Please find a detailed program description here.
The application deadline is the 20th of October 2021. For questions, please contact Ronja Kirschning (rkirschning@escp.eu).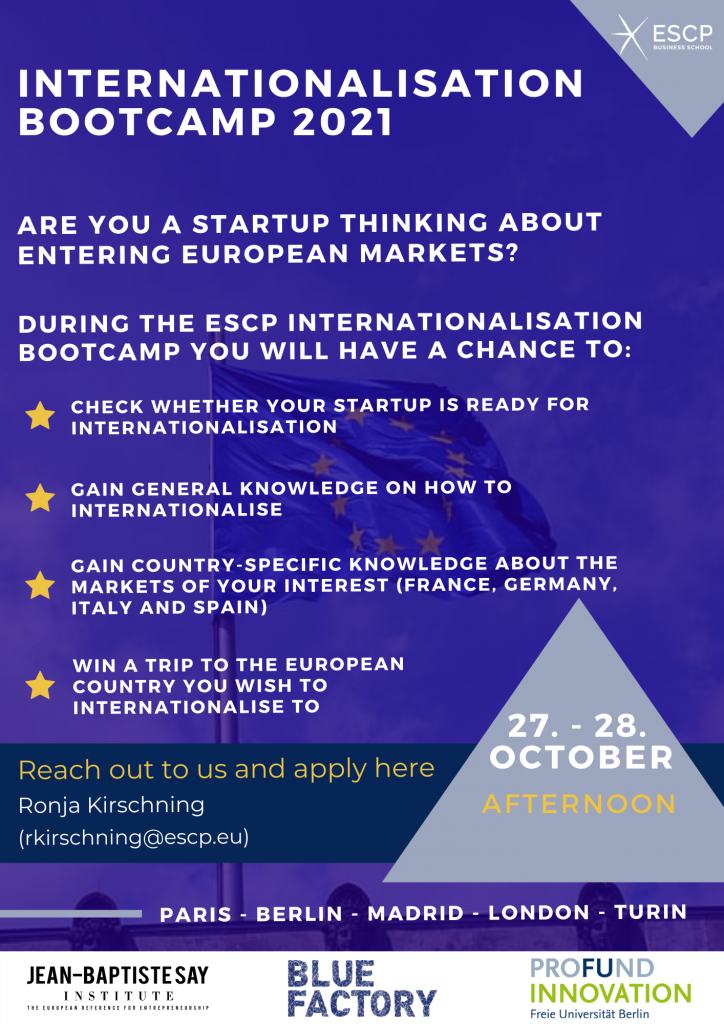 Agenda
27 October 2021
Block I: The internationalisation Bootcamp 2021 kicks off on 27 October with a welcome and networking session. Get to know your peers and network with startups from all over the world.
Block II: We examine the why and the how of going international. Find out, if you are ready for internationalisation to other European countries and learn about attractive outsourcing opportunities within Europe.
Block III: Listen to and ask your most burning questions to startups that successfully internationalised to European markets and to industry experts such as entrepreneur, seed investor and Stanford graduate Tomek Nowiński.
Block IV: Enjoy a relaxing evening program with networking opportunities and an at home wine tasting by Nampelka, one of ESCP's award winning beverage startups.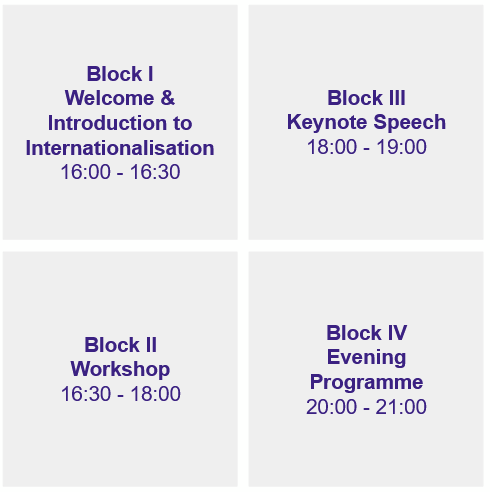 28 October 2021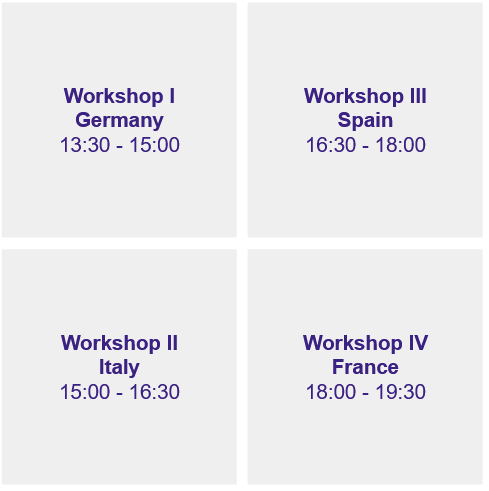 Develop competences for doing business in other European countries. Our country-specific workshops on entering France, Italy, Spain and Germany provide you an overview of doing business in the four countries.
Listen to and interact with startups and industry players that are experts in entering the four countries. Get ready for Nicola Lambert (Oltreventure), Italy's first impact investment fund, entrepreneur Roberto Sfoglietta (Ventive Deal & Touch and Contact), Steffen Terberl, Head of Profund Innovation, entrepreneur Prof. Alisa Sydow (Nampelka) and many more!
---
START
Receive 4 months of collective support in the START community to surely move from an idea to a venture in Berlin, London or Paris. Join group workshops, individual coaching sessions led by entrepreneurs and experts as well as co-development sessions. Moreover, upon request, you may get a community work space (depending on availability).
---
SEED
Get 1 year of collective and personal support so that your venture is boosted in terms of sales and market positioning. In short, grow from a new venture to a thriving business!
Berlin
SEED Berlin supports you in applying for the EXIST scholarship, which funds up to three founders of an innovative project in Germany for 1 year. Furthermore, you will be accompanied by the Blue Factory team and get access to the MakerRoom workspace.
Paris
Join a cohort of inspiring projects in our space on République campus in Paris. You will receive personalized support, regular group workshops and in addition privileged access to the Blue Factory ecosystem.
---
SCALE
Join our community of more than 300 international entrepreneurs, who work together to accelerate their growth. Get access to our mutual aid community, dedicated events and moreover to unique recruiting opportunities. Additionally, you will be invited to accompany start-ups going through the START and SEED programmes.