Choosing EMDIEL at ESCP Business School
"Before EMDIEL, I was working as a freelance digital consultant and already working on a couple of my own startup ideas. My study background is industrial engineering and technology management. It was very much focused on improving larger systems incrementally and very strict technical development processes", Sebastian shared. "I was always fascinated by the phenomenon that someone has an idea on how to solve a specific problem. Looking back, I was always a small part of that process. I felt like I was missing the full picture of the entrepreneurial process from validating an idea to scaling a company and growing with that as a leader."
EMDIEL takes its cohorts through different stages through in-depth trainings as well as a hands-on mentality. Hence, it goes beyond traditional MBAs. The unique model of focusing on an individual entrepreneurial project while studying was key for Sebastian. "The programme takes you through exactly those stages that are helpful for entrepreneurs, but also goes way beyond. It includes different angles such as corporate innovation and entrepreneurial ecosystems from Silicon Valley to China and major Europe. Moreover, it allows you to focus on your own entrepreneurial project next to studying or working full-time. It was the only programme like this that I found. Combining that with the European footprint and international network of the top ranked ESCP Business School, it wasn't hard for me to choose", he reflected on his choice.
An International Programme that Challenges Traditional Business Thinking
One of the most valuable challenges for Sebastian was EMDIEL's focus on personal growth. "The programme constantly takes you out of your comfort zone. Talking to Chineses strangers in Shanghai as part of a design challenge and presenting the results to a local CEO in five days or pitching your idea to larger crowds while a TED speaker coach constantly challenges you, are some that come to mind", he explained. "I believe it's a better approach to seek out challenges like that, rather than staying in your comfort zone. Otherwise you're probably not training your growth muscles enough. And growth is the only constant that matters. Personally and in terms of startup traction anyways."
For Sebastian, the international network of EMDIEL shaped him in many ways. "Pitching in front of a real VC in San Francisco, who is also a Stanford professor that coaches entrepreneurs around the world and tears apart every single of your assumptions, is definitely something very refreshing and memorable. This helped me improve my idea and seek out better feedback. Funnily, he is now an advisor to my startup", he said. "And second, seeing all the different entrepreneurial ecosystems, helped me reflect on what I value here in Europe and demystified most of the buzz around Silicon Valley."
From Ideation to the Launch of FixFirst
The EMDIEL programme actively supported Sebastian in his entrepreneurial journey. It helped to improve his ideas and led to the launch of FixFirst. "My idea evolved into an actual venture funded startup with a small team and first clients. The programme definitely helped me gain the skills, mindset and network that helped achieve this. Personally, it also helped me enjoy and reflect on my entrepreneurial journey and learn more about myself", he expressed. "For me, all topics around the leadership component and storytelling modules helped me a lot from inspiring people to winning startup pitch events, convincing clients and investors."
Today, he works full time on FixFirst and supports the development of the AI-first software. It provides instant error analysis and remote video consultations of household appliances. Moreover, it offers a seamless booking experience for inspections and repairs as well as recommendations for sustainable appliances. Their mission? To accelerate the transition to a circular future.
Final Thoughts for Future Applicants
Sebastian has some advice for everybody who is interested in joining EMDIEL. "I think this program is ideal for anyone who wants to start an entrepreneurial journey oneself, help others on this journey or enable an organization from within either directly as a part of it or indirectly, e.g. as an external consultant. I believe participants should take this as a really unique opportunity and bring a lot of their own ideas to take action on. It doesn't matter if you're an executive in a corporate, a freelance marketer or you're working in a startup or as an investment professional – as long as you bring curiosity and a hands-on mindset", he said.
The next round of EMDIEL starts in August 2021 and some spots are still open! If you are thinking about joining the Executive Master in Digital Innovation and Entrepreneurial Leadership, get in touch with Olga. She is excited to meet you!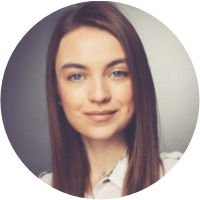 Olga Perfilyeva
Project Manager | Executive Degree & Entrepreneurship Programmes