ESCP Alumnus Julien Tartaglia is now Co-Founder of LesBonsProfs. Founded in 2011, the company creates effective educational resources and tools for middle and high school students. 100% online, this service provides hundreds of tutoring videos to make it school support accessible to everyone.
Ambition and anti-conformism
Julien is an ambitious and passionate man. During his master's at ESCP, in the 2000s, his classmates saw him as a bit of an alien. At that time, entrepreneurship was not as democratized as it is today. However, this did not prevent him from following a "non-conformist", "original" path. His entrepreneurial mindset already existed during his studies, but at the time he didn't know if wanted to start his business. What he knew was that he craved freedom and did not want to start his professional career in a large firm like most people.
He was lucky enough to have the opportunity to join LeWebPédgogique for his last internship: that changed everything. As the company was in the launch phase, Julien got to create and build everything from the ground up alongside the founder. While his friends were training in the biggest consulting companies in the world, Julien was helping start a business. He was confronted with strategic thinking, product development, company positioning, and took part in decision-making.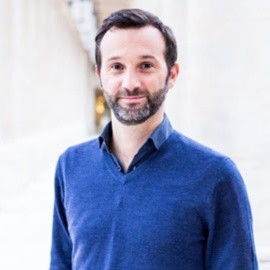 The importance of meeting people
If you think the internship was a short-term experience, think again. Julien stayed at LeWebPédagogique for 6 years, during which he learned a lot. He really discovered what entrepreneurship was, and despite his age and lack of experience, he was there from the start. He quickly became one of the main and central players in the growth of this company, which helped develop his passion for entrepreneurship. However, even if this professional experience was interesting and enriching, Julien needed more freedom. He wanted to try to launch his own project, designing and imagining it in his way.
The trigger was a meeting with the original ideator of LesBonsProfs. This person, who is both a doctor and a business manager, contacted Julien wanting to help students pass the baccalaureate (high-school graduation) exam. He had experience, contacts, he knew a "business angel" and he had a project in mind that interested Julien. From this meeting, the company was born.
Passion before anything else
However, a good idea, two ambitious entrepreneurs and a business angel were not enough to ensure the company's growth. They needed employees, particularly some who shared their values. In fact, according to Julien, the values and the culture of a company are the strengths of sustainable development. In hindsight, Julien underlines how the desire to help students is not only their central value but also the key to their success. After 10 years since its creation, these values have brought LesBonsProfs to a national reputation and recognition. 
When Covid-19 began, students were forced to study at home. In the beginning, this had a good impact on the company's activity. Schools, universities, and teachers didn't provide sufficient services and technological tools were new and destabilizing. It was difficult for students to get the hang of the new working methods, but since the beginning of the pandemic, there have been major improvements. 
As student turnover is very high at LesBonsProfs, the company has to constantly reinvent itself. The team has to be passionate, innovative, but also methodical. Students' needs are ever-changing, so LesBonsProfs need to keep up to speed.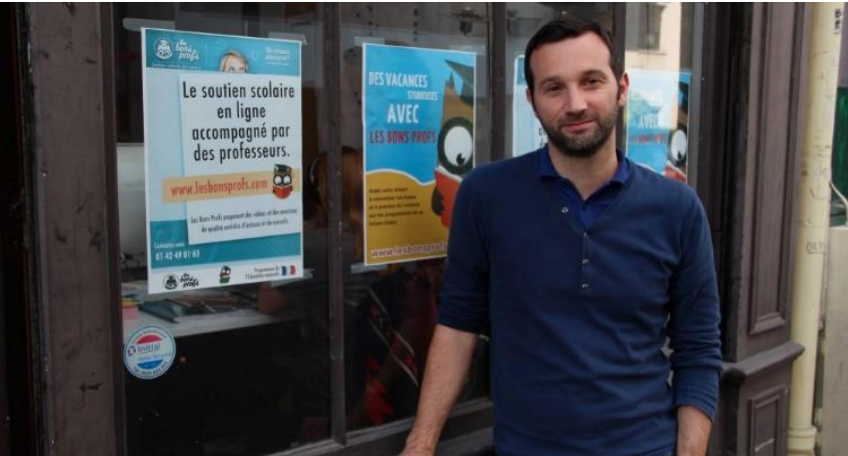 A healthy dose of recklessness and trust
Julien identifies LesBonsProfs' strengths in its values and culture. Julien suggests anyone wanting to launch their start-up to "go for it, but only if you are motivated, enthusiastic and methodical". Nowadays, it is relatively easy to find investors and it is much more common to launch a business. However, it is necessary to find a project that makes sense, that can solve a problem or help a cause. For a project to work, an entrepreneur must believe in their ideas and must convince others to join them. 
To do so, Julien suggests following some steps: 
First, we have to ask ourselves in which field we want to operate;
Second, we can identify the emerging difficulties within the field
Third, we can plan how to respond to these issues and expand the project
Julien believes that the best way to become a methodical and rigorous manager is to launch a business. Contrary to large firms, startups force people to develop quickly and learn to adapt faster. Networking, meetings, and open-mindedness are also necessary. There are lots of good ideas and lots of fields to explore. What we need, says Julien, are ambitious people who actually create innovative projects.
Entrepreneurship may not be for everyone, but for Julien, "risk-taking, freedom and discovery are fundamental elements for an interesting life".
Article written by Zoé Almairac and adapted by the Jean-Baptiste Say Institute's communication team.