Carolin Wais is a Partner and the EMEA IC Co-Founding Member at Plug and Play Ventures, a leading international early stage Venture Capital (VC) firm. Located in the heart of Silicon Valley with 50+ offices around the globe, Plug and Play acts as a platform for major corporations and high quality startups to connect and collaborate to create innovative and sustainable solutions for the future. Further, the company is the most active US VC in Europe and has been investing into pre-seed to Series A startups for the past 20 years.
Carolin started her career in venture at Next47, a global venture firm built for enterprise founders which is headquartered in Silicon Valley and has offices in the US, Europe, and Israel. During her close to 3 years at Next47, she was working on the Fund of Funds and Direct Investment side, taking care of the portfolio performance and financial Due Diligence.
Carolin was born in Stuttgart, Germany but has lived and worked all across the world from the United States, Middle East, China and more. She has worked in the VC industry for over 7 years and is the Valedictorian of the 2019 Master in Management class of  ESCP Business School, IE Business School and Friedrich-Alexander-Universität Erlangen-Nürnberg. Carolin has a personal portfolio of over 30 investments.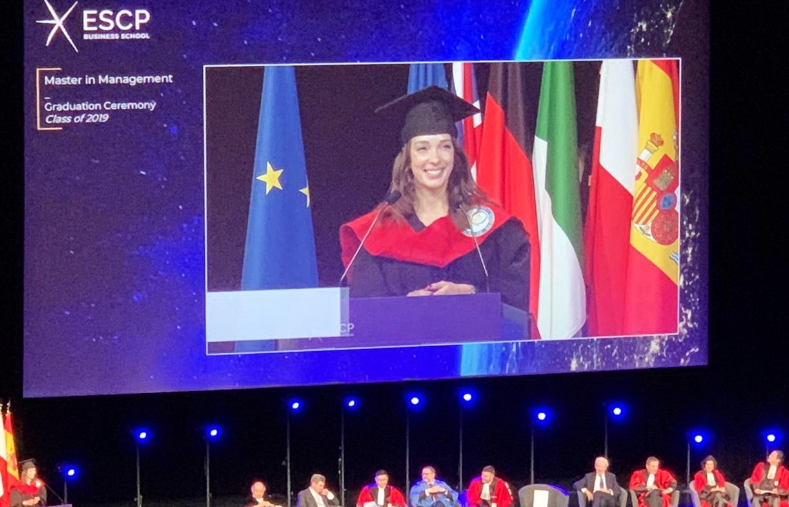 Carolin's journey in the Venture Capital industry
Carolin completed her Bachelor degree in a dual education system offered by Siemens. As she describes, this was a unique experience because it combined studying at the Friedrich Alexander University in Erlangen-Nürnberg, with working for Siemens. There, she completed 9 rotations in diverse departments ranging from HR, Finance, Purchasing, Project Management etc. She even did accounting for a transformer factory in China and completed an exchange semester in Stockholm. These manifold international experiences have positively shaped her career as she says.
Carolin did not always know that she wanted to go into the VC industry. Still, it was a natural progression for her as someone with varied international experiences, and a passion to interact with a wide variety of individuals to exchange multifaceted views about various topics. She began her career with a great exposure to the entire ecosystem and dynamics behind it In her 4 years at Plug and Play, Carolin has completed 30 deals. She spearheaded the EMEA Investment Committee which managed to do 91 investments in 1 year, the highest they have ever done. Carolin has just been promoted to Partner at Plug and Play and her investment thesis is everything around adding value. Her focus is on whether the company really drives impact not only in a sustainable way but also considering costs and revenue. She is passionate about diversity in founded teams and does a lot of mentoring on the side.
Why is Venture Capital a very exciting industry?
Once Carolin entered the industry, she realized pretty quickly that she had found her calling. VC is an amazing confluence of different moving parts and you always need to imbibe new information and analyze new markets which makes it intellectually challenging. Networking and talking to people are essential components of the job, which Carolin, being a social person in general, enjoys a lot. Carolin spends 70% of her day meeting new people. Venture involves a lot of analysis of founder profiles and requires pattern recognition to constantly fine tune evaluation models and risk mitigation.

At Plug and Play roughly 250 international deals between $50,000 and $150,000 are done per year. There is a chance to see many different ecosystems and cultures across the world. On the one side there are smaller VC companies with 15 people while at Plug and Play there are 850 people, so there is a wide variety in terms of size. Plug and Play's Partner Board has now expanded to have an American and an EMEA board. Local teams are essential and so is diversity. Carolin believes that diverse teams work better and this is reflected in her personal deal flow. 9 out of 12 investments she did in the past year were in diverse teams. Traditionally there have been predominantly male partner boards in VC companies. Now this tendency is changing, making it a great industry for people who want to be at the forefront of that change. Still shocking is that only 2% of female founded or completely female led teams get VC funding. But now is a great moment in time to change that.
Differences between American and European Venture Capital
Contrary to the statement that European venture capital firms are lagging behind their American counterparts, Carolin says that Europe is doing really well in the VC industry and has become a very valuable innovation hub. Industries that will matter in the next 10 years like deep tech and sustainability are developing strongly in Europe and are backed by strong engineering talent. Over the past 5 years American VCs have significantly increased their foothold in Europe and all the big US VC firms have set up shops in Europe. In Carolin's experience American founders tend to oversell more while European ones are more humble. Valuations are also quite different as US valuations are much higher while the European ones focus more on innovation. Places like Munich have a great combination of big industry players and great universities and engineering talent driving innovations together. However, an area that requires improvement is regulations. Especially in Germany, the government should help founders to provide an easier entry into the market and fix some fundamental regulatory problems.   
The VC Industry in the post covid world
In the past two years the VC world has changed drastically. 2021 was an absolute high year and witnessed a record number of exits, IPOs and insane funding rounds. Investments have dropped a lot since the 2021 peak and in the current high inflation and high interest rate environment people are going back to the basics. According to Carolin, fast growth, although still a positive aspect, is not enough these days. It's important to have a long lasting and sustainable business model. VCs are asking questions like "How much money are you burning?", "How healthy is your business?", "When can you reach profitability?". Venture still remains one of the best asset classes in terms of returns but there is a wider spread which means that many funds will never even return the money that was invested into them while others grow exponentially and become huge outliers. So it remains a risky asset that needs expertise to manage but it is indispensable for how our world progresses. Carolin's opinion is that 2023 is still going to be a more quiet year in terms of acquisitions and IPOs. The stock markets are down which impacts the equity investments and growth investors are not eager to invest into huge rounds. Many VCs will be focused on more pre-seed and seed investments and hopefully from 2024 we will again see the resurgence of growth investments.
No one is born as an investor
The adage "your network is your net worth" is Carolin's favorite quote. In her opinion it signifies the VC industry because every founder you meet can potentially help you connect with a different founder and each additional person in your network increases your odds of tapping into new possibilities. According to Carolin, ESCP Business School is the perfect place to grow such a network and nurture individual connections. Students should not shy away from approaching alumni and asking for industry tips and internships. Still, Carolin suggests addressing alumni personally instead of setting up mass reach-outs. Patience is an extremely important determinant because no one is born as an investor and skills like pattern recognition, understanding different characteristics etc. only come with a lot of experience. Carolin believes that such patience and determination can yield amazing dividends as a career in the VC sector can be pursued forever.