Taking the first steps into the world of entrepreneurship
Matea Zjačić was an international bachelor student in Berlin, when she realized that the entrepreneurial workplace could become her career path. She is ethnically Croatian, was born in the USA and moved to Sweden and Germany throughout her young years. Thus, she was used to the international school system of ESCP business school, where she studied the Bachelor in Management course in different cities in Europe (London, Madrid and Berlin). It was in her last year at Berlin that she started viewing her career taking a shape towards being a founder of a startup thanks to her specialization choice in entrepreneurship. "Founding a business was always in the back of my mind, but it was only with this specialization that it clicked finally in my brain", Matea explained. This is what led to her creating Wearex, with the ambitious goal of disrupting the fast fashion industry.
During the entrepreneurship specialization at ESCP, she was able to start discussing with her roommate at the time about the idea and they especially learned the tools needed to develop a business from scratch. In fact, the final project was to present a business plan for a potential startup, and this is where they started believing in their project. Moreover, within her ESCP years, Matea became student ambassador, which helped her to get in contact with professors and professionals across the University. "This experience made me realize the power of networking and I was able to discover some resources that maybe I wouldn't have noticed otherwise".
When a frustrating problem turns into an authentic idea
Matea's roommate and classmate, Alice Ferrero, was interested in the fashion industry and she was especially frustrated by the large amount of waste and bad working conditions in this industry. After an internship experience during her studies, she found herself exploring the concept of sustainable finance. This is when she wrote her bachelor thesis on human rights in the fashion industry and started the ESCP business plan project on this. Alice was always passionate about giving local artists and local designers the power to be able to do what they love and at the same time reducing the waste of resources. "This is why her mind naturally went into upcycling without even really knowing what upcycling actually was. And then we found out together that upcycling already existed, that there is a term for it", Matea explained ironically. On the other hand, Matea didn't really have an industry she was very passionate about. This was an opportunity for her roommate to start the conversation on this business idea, which slowly made Matea realize that she never wanted to work in the fashion industry for the wrong reasons. In fact, she mentioned that "if you have an industry you hate for a certain reason, the best thing is to do something about it".
This is how Wearex started to come into shape and became an established B2B sourcing platform for upcycling brands where they can source their raw materials coming from  unwanted or unused textiles of fashion companies, rental or resale companies. The initial idea started differently, where the two students thought of a customer facing business as a platform that would collect old clothes of people in Berlin. Despite their initial business plan, their market research and customer base creation, they realized with their first MVP (minimum viable product) that it was very difficult to get customers to take action and that the quality issues of the materials was a big challenge. This is when the help of their connections as students of ESCP Business School became crucial. They started by getting in contact with the University Incubator, the Blue Factory, and joined their START program. Here they got great support in terms of launching their idea and preparing for their financing strategies and pitch to investors. Thanks to this program, Alice and Matea were able to also pivot on the business model they already made, which allowed them to become a startup that was tailored at upcycling brands specifically, taking their needs into account and making upcycling accessible and available for them.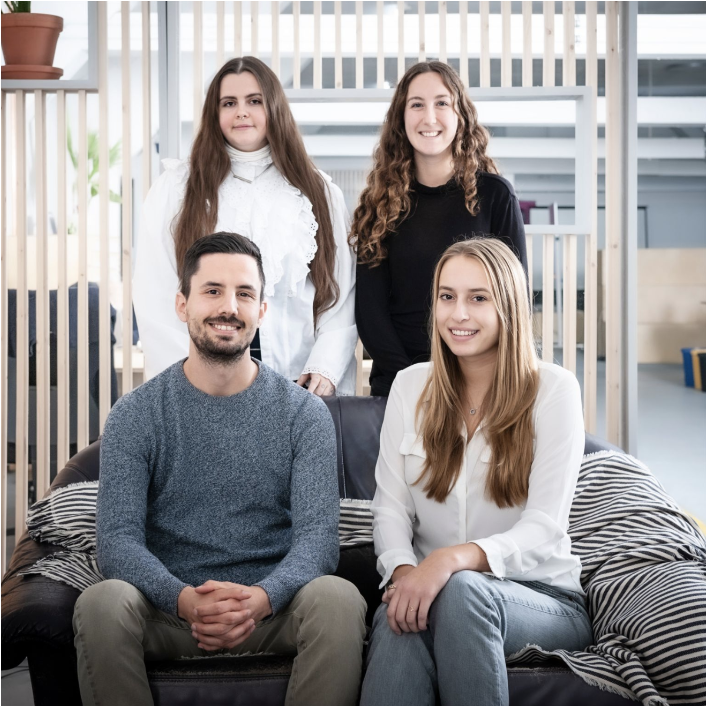 From an idea, Wearex moved to an office space with their new team
Since November 2021 Matea and Alice have been working together for the creation of Wearex and now the company operates with two employees and an office in the co-working space of their incubator. The two students were initially very excited about founding a startup and found themselves assuming their main roles in it. Alice was more involved in the customer-facing activities, such as sales and marketing, while Matea was more interested in the backend side as she did for her previous experiences in consulting and project management. Despite their main responsibilities, Matea explained that "at the beginning it's important to make every decision together" and this is why they still confront each other on a daily basis for important decisions. Matea said, "It feels like an ongoing University paper all the time between me and Alice!". After joining a Berlin startup scholarship program, they had the opportunity to hire two employees to support them as web developer and UI/UX designer, Lucas Pfister and Daniella McKinley Teruel (who is an upcycling designer herself). The two co-founders manage their team together and they want to keep their organization as flat as possible for the moment.
How being "just students" actually helps
Reflecting back on the path of Wearex, Matea is happy to share some advice to the students that are now in the process of founding a business or attending the ESCP entrepreneurship specialization. Firstly, she shares that looking back she understands how helpful it was that Alice and she were "just students". In fact, she mentioned that "this is a really great space to be comfortable to explore a business idea because you have the security of being there just studying at the end of the day". It can be in fact a creative space that she suggests all students in this track to use well. Moreover, as a student, the contact with mentors is quite immediate and Matea realized how essential this was at the beginning of their investment in their idea. "No matter how intelligent or experienced you might be, those years of experience that the professors have in an industry will really do a lot in order to shape your business case". A first talk with them was important for the two students because when they crossed this first step, they realized that maybe it really was worth investing their time in it. Thus, proper mentorship is a vital ingredient at the start of any entrepreneurship project.
Wearex is an online fashion upcycling platform that facilitates the matchmaking between textile waste and the talent of local upcycling brands in Berlin to extend clothing lifecycles. The founders have currently paused operations on their platform but continue to stay active through their instagram community @_wearex
This article was written by Chiara Bagaini based on her interview of Matea Zjačić. Supriyo Panda from the Blue Factory Berlin team edited the article before it was published.