Ankit Saigal graduated from ESCP Business School in 2020 and has worked at Leapsome since early 2019 in a hybrid role combining responsibilities covering product and marketing. Leapsome is a B2B SaaS startup based in Berlin. The discussion reported in this article turned into one full of inspiration, passion and "entrepreneurial" spirit.
Changing Perspectives and New Adventures
As an engineering student in India, Ankit often found himself questioning the non-intuitive education system of the country and dreamt of widening his horizons. He moved to the US during his study program, where he picked a minor in business and entrepreneurship. Finding himself in the US's enriching business ecosystem, Ankit worked with a startup in California where he soon realized his passion for this style of work.
Having worked for a large firm before, he had felt disconnected from the key strategic tasks. But here, he could thrive and learn a lot more practical skills on a daily basis. He decided to move to Europe to transition fully into a business role. ESCP offered the perfect opportunity and challenge to expand beyond his comfort zone and to live his "European" dream.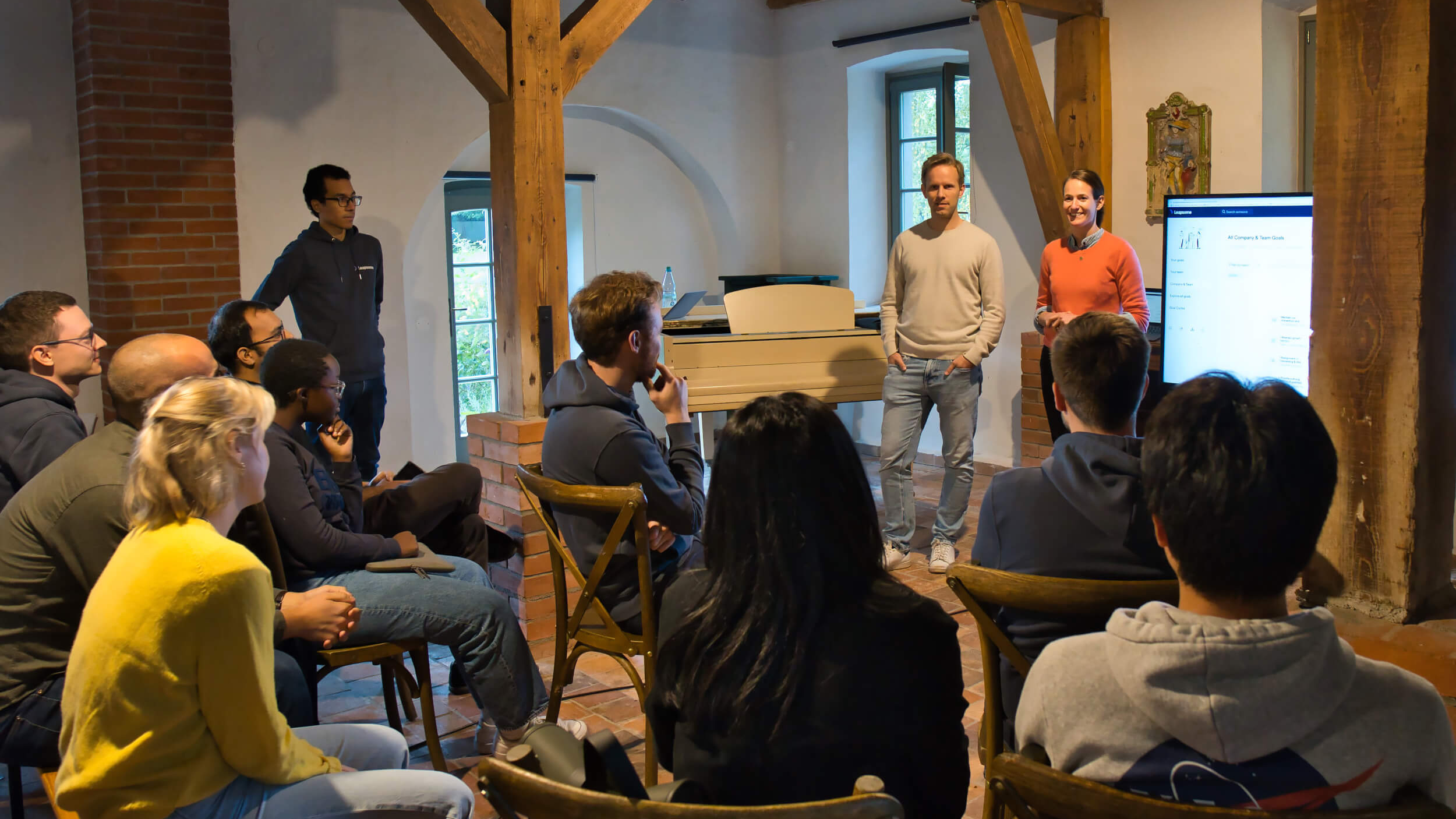 Starting from the Bottom
In his second semester, Ankit started working at Leapsome. He was the fourth team member. The high scope of responsibilities in such a small team gave him a platform to polish his skills and help build the business from the fundamentals. "We were just 4 of us back in 2019, and now we are 80. It's a challenge to grow the business in that stage, but it's a rewarding experience", he says.
Being a B2B SaaS startup focusing on performance management and employee engagement, he describes his Leapsome story as being at the "right place at the right time". Getting the role exactly at the time when he wanted to work in this type of startup, was the ideal match. The buzzing tech and startup environment in Berlin along with the international setting convinced him to pursue a career in this city.
An Entrepreneurial Setup
The fast-paced, dynamic workplace at Leapsome gives them an edge over their competitors who are up to five times their size. Employee engagement and satisfaction are high while communication is effective, and task execution proceeds smoothly with fewer hurdles. "A quick update to the website or to the sales deck can be done in a few minutes; in a large firm this could take several days!" says Ankit.
Employees appreciate this freedom and inter-departmental connectivity and feel a sense of ownership over their assignments. The flat organizational structure and open communication make it so that even an intern can make a difference from the first day. Everybody's opinion matters and can be posted on their slack channel at any time. As this can be a challenge for people who like fixed structures, the recruitment process ensures hiring based on a solid cultural fit.
The entrepreneurial workplace at Leapsome focuses on speed of execution, outcome approach and execution over perfection. The speed is what gives them a competitive advantage in the market. The employees can have a lot of flexibility in their work schedule as long as they meet the expected outcomes. The aim is to move the needle forward, to execute with conviction, instead of being delayed due to striving for perfection.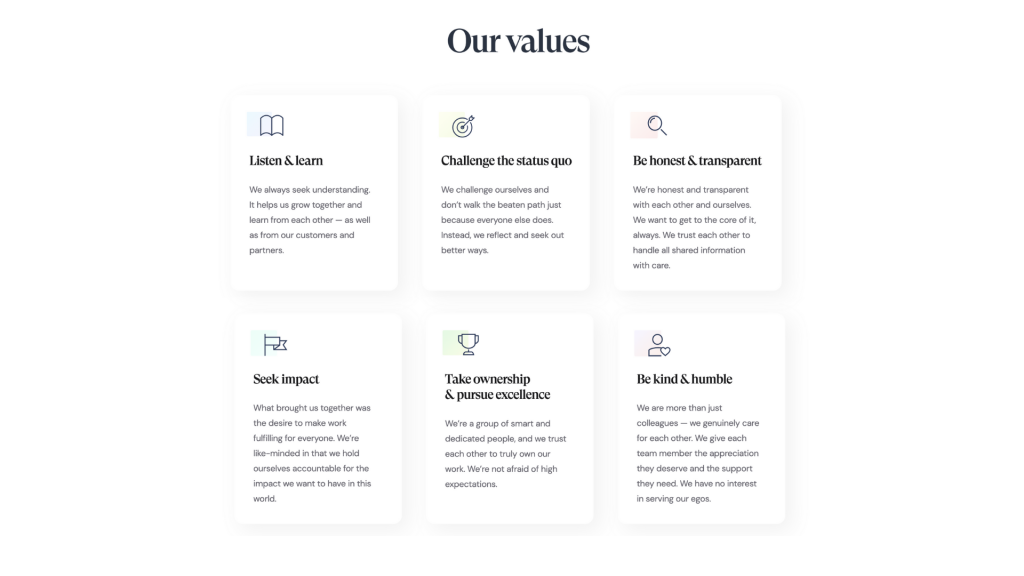 Finding Structure within Chaos
As the pandemic hit the world, this outcome-based approach helped Leapsome remain surprisingly unaffected. The transition to a remote workplace was smooth, and the same focus on OKRs and mission was maintained. With hybrid work, employees have control and flexibility to choose their preferred way of working.
To deal with the new challenging environment, Leapsome's leaders ensure the implementation of 6 key values. With these guiding principles they influence processes, while still granting employees ownership over their tasks. Both employees and managers seek upward and downward feedback, which leads to a harmonious work relationship.
Being a mission-driven startup, at Leapsome the feeling that "we are all in this together" is widespread. The goal is to make work fulfilling for all through their service offering. The product they sell defines their company – their mission of making work fulfilling through SaaS for clients, starts from their own backyard. Thus, culture plays an even more important role: "we are the ones who need to portray an engaged and committed workforce in the first place. Only then can we claim to help clients achieve these results through our services", states Ankit.
Academics x On-Field
The multicultural ESCP experience enabled Ankit to understand team dynamics and prepared him well for the international workplace at Leapsome. Having spent 3 semesters during his Master working at Leapsome, he gained the majority of his competencies while working on the project rather than in the classroom. In fact, Ankit claims that "most things taught in schools can be self-learnt, with enough motivation".
He recommends everyone to take up a working student role during their studies to build an expansive list of skills that can only be learnt through experience. Ankit insists that university coursework should not be a limiting factor. As he wanted to pursue product management, despite there not being such a course at ESCP, he took the initiative to learn online and at work.
"In this regard, it can be a great idea to seek the path of lifelong learning. At the crux of the professional journey lies the need for self-awareness. Truly knowing who you are and what you want in life can be a multiplier in all that you do. Find that inner voice and prepare to grow and widen your horizons"
Leapsome is a people enablement platform that closes the loop between performance management, employee engagement, and learning. Leapsome's mission is to make work fulfilling for everyone. With solid growth figures, Leapsome has secured USD 60m in the latest financing round and aims to extend its solution to positively impact a larger portion of the professional world.
Article written by Vihaan Purohit and adapted by the Jean-Baptiste Say Institute communication team.