A sound issue
Imagine a typical evening when you come home after a full day of work. You have dinner and want to relax for a moment before going to bed. Cars are passing in the street, a siren is sounding in the distance. It grasps your attention, and suddenly you are aware of every sound. The clock ticking on your wall, the people talking loudly outside, your neighbours coming home, banging doors, calling for each other. You cannot relax anymore, so you go to sleep for the night. And just as you managed to purposefully ignore every single little sound, a baby starts crying. So much for ignoring sounds.
In the morning, after managing to only sleep a few hours, you get up for work again. Today is home office day. You sit down at your desk and stare at your computer screen. The city is waking up outside, people are going to work, stores are opening, people walking, buses roaring, clocks ticking, cars honking. You rest your eyes on your hands for a moment, and then you press them on your ears. Calm. One second of peace, before the next sound makes its way through your fingers. You have thought about soundproofing your apartment before, but additionally to that being a horrendous expense, your landlord did not seem too keen. If only there was another way… Except now, there is.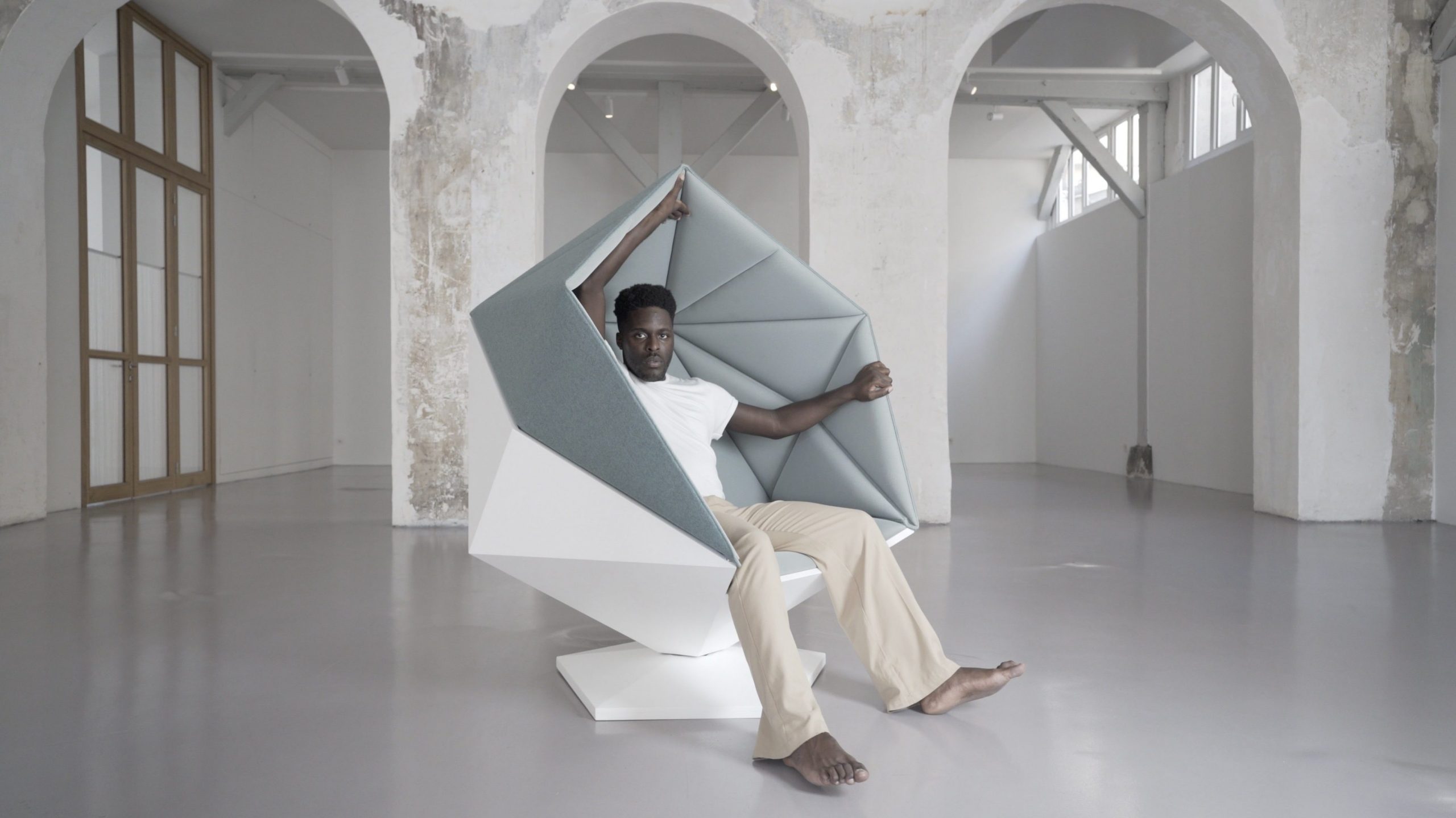 Noppi – quiet, the way you want it
A few years ago, Alexandre Guyenne realized that sound had an extreme impact on his quality of life. What he quickly understood was that we only need a quiet space in specific moments: when we are working, sleeping, or relaxing. Therefore, the need to soundproof a whole apartment seemed to fade away. On the contrary, he perceived the necessity of treating what is directly around people's ears. This is how he decided to focus on furniture. Existing furniture, but with a modular twist. Furniture you can deploy around yourself to shape your privacy, but also fold back for your social interaction moments. This is how Noppi was born.
With a background in civil engineering and finance, Alexandre was looking for a twist in his career. He wanted to do something that had an impact, "live adventures that matter", as he says. And as with every respect-worthy adventure, he could not possibly do it alone. First, he found a partner: Gaël Hiétin, designer and creator at heart. Then, he surrounded himself with the right people. Noppi's advisory board counts an acoustician, company advisors, ESCP Business School's professor Alberto Léon, LVMH's COO Bernard, and the founders of Stooly, a foldable furniture company. Then he established strategic partnerships with specialists such as a digital ergonomist (who makes 3D models for Noppi), artisans, furniture marketing experts, and commercial agents.
It takes a village
It took a small village to create Noppi, but it works incredibly well. Noppi presented its first product – Orri – during the Paris Design Week at the beginning of September 2022. The response was overwhelmingly positive. Not only did the press write about it (DArA, 2022; The Gaze of a Parisienne, 2022), but influential institutions such as the Mobilier National, the French Design Institute and Parisian Museums shared expressions of interest. And just like that, a couple of days later Alexandre was invited to the Elysée Palace for the reveal of the new council of the ministers meeting table. To top that off, Noppi has been selected as one of the three companies that Maison et Objet (the most famous Design and Furniture French Convention) will push forward during its "Future on stage" competition in January 2023. This is clearly just the beginning for Noppi.
The birth of Orri – Noppi's first armchair
As you might imagine, creating a modular piece of furniture is not exactly the most immediate thing to do. The first piece that Alexandre Guyenne wanted to create was a headboard, to provide sound-proof sleep. However, his partner Gaël – the creative design mind of Noppi – did not "feel" the product. The two co-founders then decided to focus on a different moment requiring silence: focus-relaxation time. When Alexandre mentioned an armchair, Gaël's eyes lit up. A few days later, he came back with a small origami model of the product.
The idea was to use the space between the sitting area and the floor, to store a deployable material that is thick enough to block sound waves but airy enough for users to comfortably breathe. Seems easier said than done. Fast forward fifteen months, a subsidy from the City of Paris, a registered model and a pending design patent, Orri was born.
Every first-edition Orri armchair is carefully handcrafted, signed, numbered and certified. Quality is everything to the founders. Their goal is to make something that "kids will be proud to inherit from their parents", as Alexandre says. Every piece is made to last: it is properly built, fixable by design, detachable, washable, and made of 100% recyclable materials. Additionally, Orri is fully produced in France. Producing locally not only has a lower carbon footprint but also gives work to remarkable local people with specific know-how, a social aspect very important to the co-founders.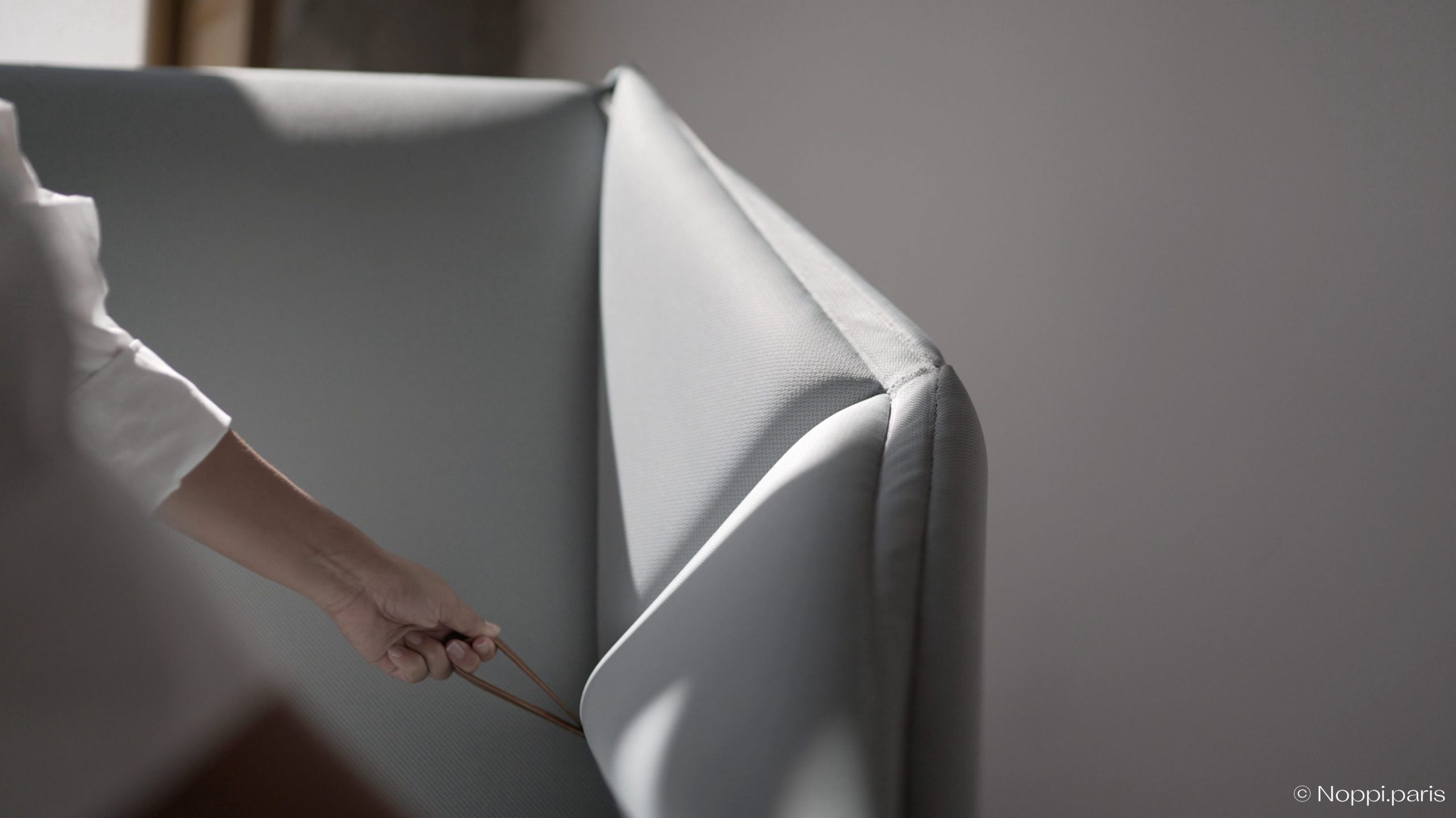 Noppi's future endeavours
As Orri enters the European market, the co-founders are on the lookout for the last happy few that will acquire the remaining pieces of the first edition. Currently, Orri is available for sale on personal request, as well as via an architect, through prescription and can be shipped anywhere in the world
Orri's design makes it suitable for a business environment. But do not despair: Noppi is already developing its next product – a chair with a lighter design that will be better suited for a home environment. More to come at Maison&Objet in January, from the 19th to the 23rd.
In the meantime, you can experience Orri at Station F, Zone SHARE, from late November to mid-December.
The Blue Factory Berlin and the whole Jean Baptiste Say Institute for Entrepreneurship wish Alexandre and Gaël all the best in their future endeavours.
Check out more:
http://www.noppi.paris/en
Instagram: https://www.instagram.com/noppi.paris/ 
LinkedIn: https://www.linkedin.com/company/noppi-editions-paris/