An Option-E Demo Day in two stages
On Demo Days, students present and pitch the business ideas that they developed during the semester. This year, we made it extra European. In the campus selection round, all 23 Option-E teams from ESCP Business School in Berlin, Madrid and Paris pitched in front of their campus peers and jury members. The best teams from each ESCP campus (2 from Berlin, 2 from Madrid and 3 from Paris) entered the European Demo Day Final, where they had to present for the second time.
These 7 teams were Econdo (Berlin), eQUIP (Madrid), GREENbox (Madrid), Hi!Tech (Berlin), KeepUp (Paris), Kubili (Paris) and Park My Bike (Paris). First, Econdo strengthens local communities by connecting people with local businesses. eQUIP is a rental platform for high-quality appliances. GREENbox is a returnable and reusable packaging service for online fashion retailers. Hi!Tech helps seniors master technology through an offline-to-online learning programme. KeepUp is a daily podcast that summarises news in 3 minutes. Kubili is a game that generates quality family moments. Lastly, Park My Bike is an app that makes it easy to secure your bike.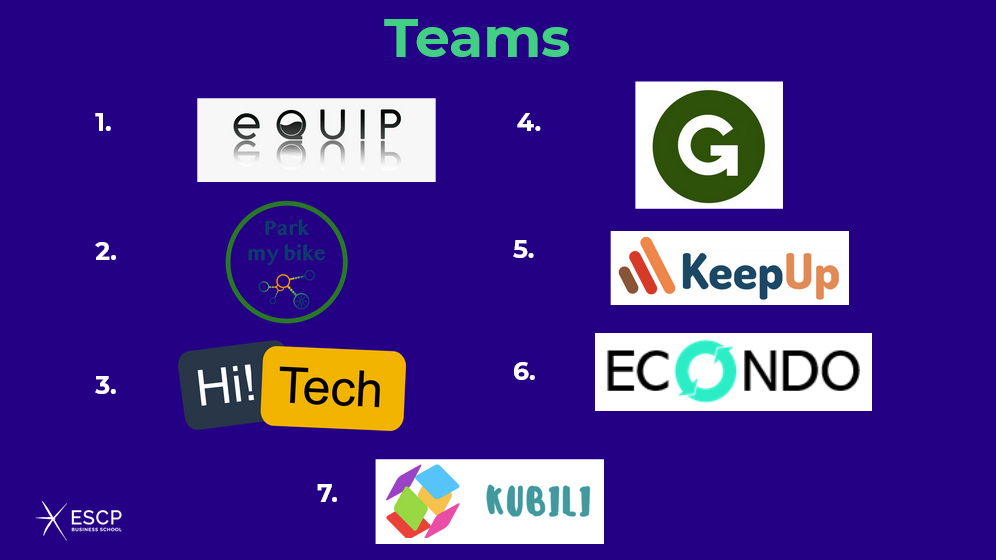 Meet the winners
The jury was made up of our affiliate professors Julie Guth and Peter Borchers, as well as the professionals Rodolfo Carpintier, Mehdi Ben Kahla, Laura Morillo and Silverio Rosa. After the pitches, jury members asked questions and shared feedback. Afterwards, the jury voted for the best teams in the categories Best Pitch and Investment Readiness. They could invest virtual €100,000 into the most promising start-up ideas.
Finally, GREENBox from Madrid campus won in the category Best Pitch. Congratulations to Andrea Castellana, Clément Courtier, Dennis Nesemeier, Marie-Sophie Rasch and Karim Sadqi! Secondly, in Investment Readiness, Park My Bike came out first. Well done Aliénor Fender, Zoé Barbet, Alexandre Nguyen, Augustin and Corentin Garet! Both teams won a travel voucher to an ESCP location of their choice for 2021.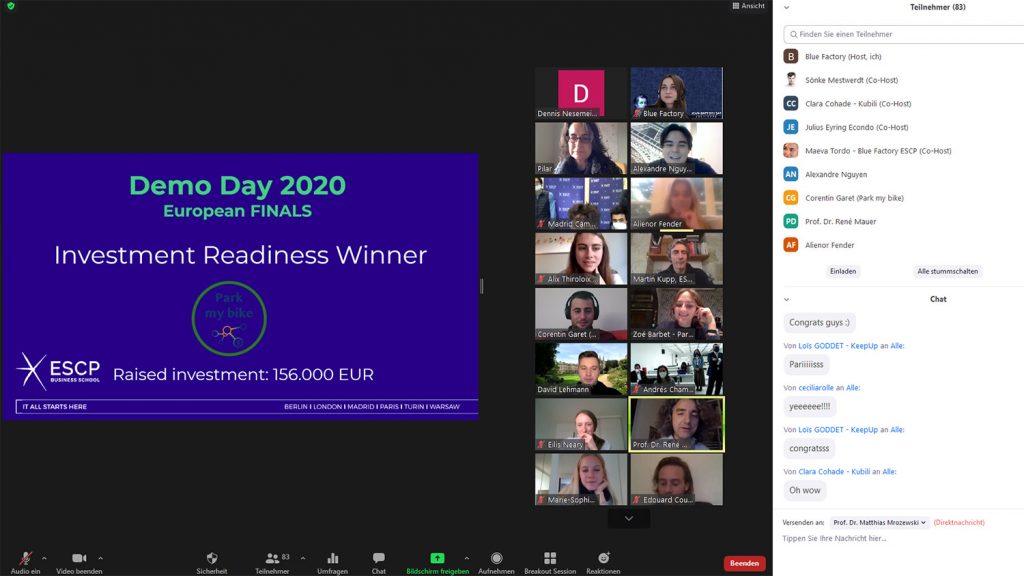 Celebrating European Option-E successes
After 100 days on the Option-E journey and with more than 100 participants at the Demo Day, students, teachers and facilitators were happy and proud of what they achieved. "The event was a great success, we are looking forward to further cross-campus collaboration!", said Agnieszka Wosek, Blue Factory and EXIST project manager in Berlin. What started as an attempt to thrive during uncertain times might be the path for creating truly European entrepreneurship projects in 2021 and beyond.