Are you a freelancer, a personal service provider or a professional looking for gigs? Do you feel like your applications get lost in the clouds? Would you like to reduce the length of the recruitment process?
Stuck in a similar situation and based on the knowledge that standing out from other service providers through small written text is challenging, Dan Bessis – founder of Pop Eye – took the matter into his hands. He started a venture with the perception of personified and personalized video ads.
A peculiar journey – from DJ to entrepreneur
Hustling towards financial independence from a very young age (he was just 14), Dan always believed he had an entrepreneurial spirit. He has worked in a variety of industries, from being a bartender to working with Google. Out of all, being a DJ (Disc Jockey) was his biggest passion – which he follows to date. Dan quickly understood that it is pretty arduous to find a job as a freelancer. People have to apply on various websites depending on the role they want, and on the other side, employers have to go through numerous applications with lengthy descriptions often similar in one way or another. And all of this for jobs where the human touch is an utmost priority. Such as, for example, finding a babysitter.
In Dan's words, "for a role where a personal touch is required, a video makes sense". Believing in the concept and having acquired experience with Tech Giants like Google & Microsoft, Dan started working towards developing a product after having graduated from ESCP Master's in Management in late 2016. By the end of 2017, he launched the company Pop Eye – "Make your videos Pop".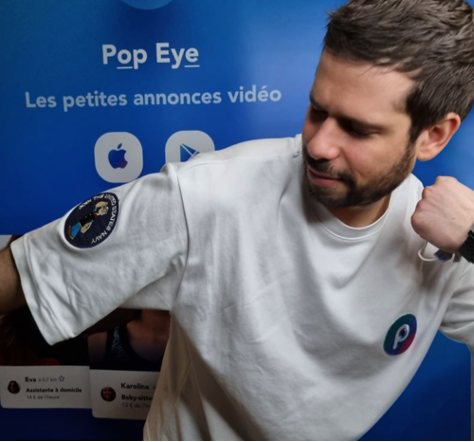 An initial bumpy ride
Dan's vision was clear, but the beginning was not a piece of cake. Finding a product developer was already quite a hard task. Luckily, after a while, Pop Eye was able to identify a qualified developer through the ESCP entrepreneurship cell. The typipcal chicken-egg problem arose when having to launch a job searching/proposing app with no users on either side. Dan did not want to establish a platform as an empty shell. For this, he utilized his personal network and asked people to create video ads on the platform. By the time of launch, there were 200+ videos on the platform. Through peaks and troughs, the first product was set in motion in 2018. Within two months of the launch, the company raised funds from two business angles at a valuation of one million Euro.
2019 was a phase of scaling and growing. But in 2020, the company faced a lot of issues due to the COVID pandemic. The company lost the opportunity for a colossal investment just 20 days before signing the final contract. Dan mentioned that "8 out of 10 start-ups fail within two years of launch. We did not want to be a part of that".During these strenuous times the company focused on saving. They even reached a point where Dan used his own funds to keep it running.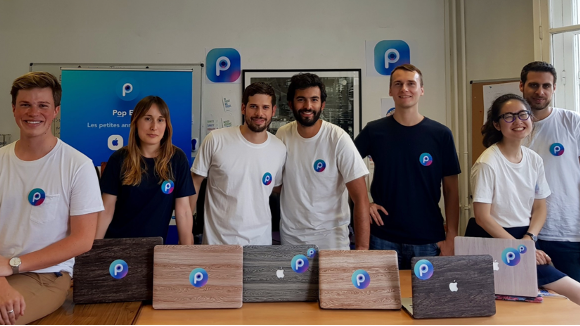 Pivot, Pivot, Pivot
But then, the Pop Eye team evolved through COVID. The team decided to onboard an expert in the field of recruitment platforms as a partner. This person came along with the idea of converting Pop Eye into "Tiktok for jobs". He knew that big companies' recruiters have a hard time attracting young talent because of the technological knowledge gap. Moreover, the new start-up culture has an attractiveness it is hard to compete with. With the new perspective of bridging the gap between recruiters and GenZ talents, Pop Eye expanded its clientele target to the B2B space.
Nowadays, the platform can be used as a video resume marketplace where the primary revenue source are B2B partners. Individuals are using Pop Eye as a digital business card that can be shared via any social media app. As Dan mentioned, "I use the app for my passion – DJ (Disk Jockey). Last week when I had a query about my work I shared my Pop Eye video as my business card". The company was able to focus on customers' pain points and pivoted towards tremendous success.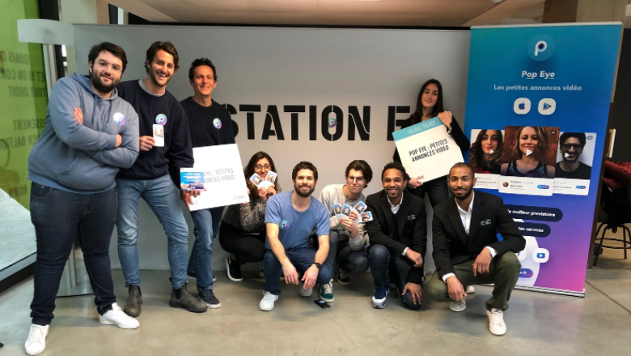 Sharing the baton with employees
Dan believes that "it's important to feel good in your workplace for a better flow of ideas". This is why Pop Eye started its company operations in a co-working space: Station F. Station F is a futuristic, calm and innovative co-working place where people can interact with employees of similar start-ups and share knowledge with each other. Learning from 30 similar start-ups in the facility and implementing best practices from his previous experiences, Dan created Pop Eye's Philosophy, based on authenticity, transparency, and trust.
The company also administered some of the best practices for small and dynamic start-ups like 1:1 meetings, feedback culture and agile methodology. From the founder to interns, all company employees have the freedom to express ideas and execute them with due diligence. In Dan's words, "employee empowerment, creativity and freedom are the three major pillars of our company's culture".
A few words of advice
What would Dan recommend to upcoming entrepreneurs, you may ask?
"I believe that motivation comes from belief. You have to believe in your product for it to succeed. There will be many people trying to demotivate you. That's why strong belief and drive play a vital role in continuing with what you started. The confidence in the product comes when you create a product that is useful in your life. And lastly, just go for it. There is never a right time to start your venture. Entrepreneurship is difficult, but you have to take the calculated risk, be open for feedback, implement changes and pivot."
Pop Eye is a video resume marketplace. A one-stop solution for employers & personal service seekers to find the perfect fit. This application allows people to find the service provider/employee they need through 30-seconds to 1-minute video ads. Finally, people can get an authentic idea of a person before meeting them. Pop Eye undoubtedly assists in eliminating vague descriptions, extended interviews and endless doubts.
⚠️ Pop Eye is currently fundraising till September 30th! Contact Dan to participate in his mission, at Dan@pop-eye.fr
Article written by Dhrupad Hindocha and adapted by the Jean-Baptiste Say Institute's communication team.