Digital and Technological Leaders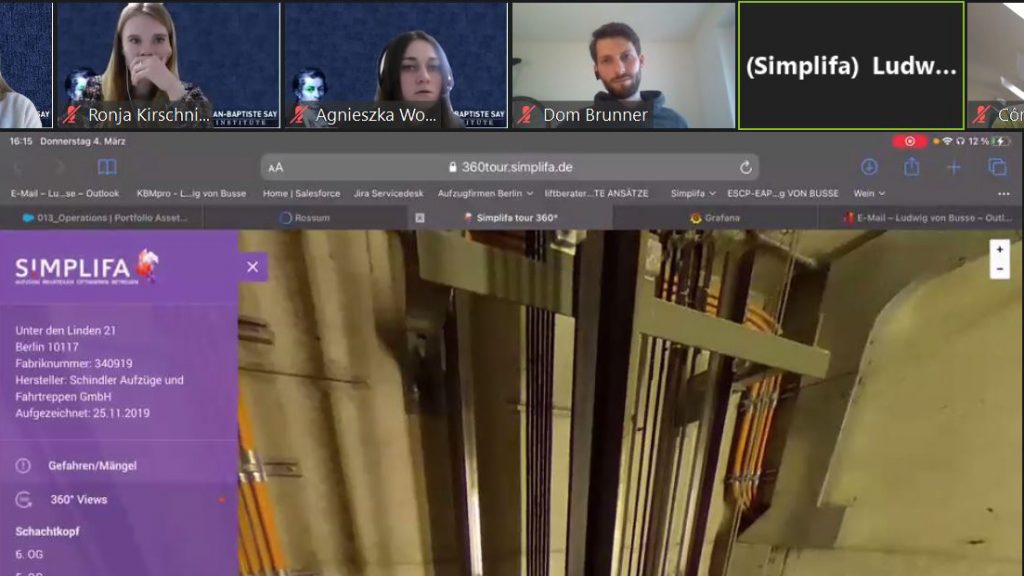 After a short welcome, the E-Startup Fair kicked off with a jam-packed session on Digitalization and Technology. Among the fascinating start-ups who presented themselves to the students were Evertracker, Simplifa, Vanilla Steel, and AISight.
Moreover, EMDIEL alumna Hillary Klassen presented her start-up bestselfy. bestselfy helps companies scale coaching to all employees in an effective and affordable way. Additionally, Neuraum Ventures presented their platform for homebuilders Fertighaus.de. MysecondEar shared the exciting news that they are the fastest growing hearing aid company in Germany.
Financial Technologies and Sustainable Businesses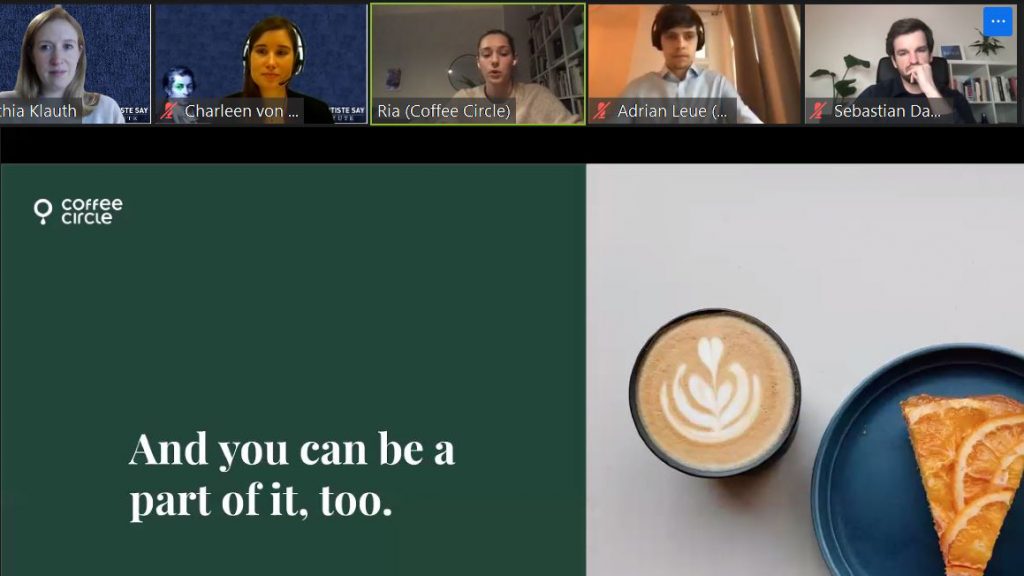 In the next slot, Germany-based start-ups in the areas of fintech and sustainability introduced their businesses to the audience. In the session on fintech, Moss, Trade Republic, Taxfix, and Billie talked about their products and business models. For example, Moss enables businesses to master their finances by developing a next generation corporate credit card. The sustainability session caught a similar vibe. Lukas Bosch introduced gut.org as a fintech for philanthropy. They are building the first platform for strategic major giving and philanthropic investing. Or in his words: "We democratize philanthropy."
Moreover, Staiy showed the next exciting steps in their sustainable fashion business, which include an editorial magazine, a concept store and  AI-driven style recommendation. EMDIEL alumnus Sebastian Daus stated that he founded Fix First "…to accelerate the transition towards a more circular future." Participants also learned about the specialty coffee company Coffee Circle and the international food awareness organisation proveg.
Food, Tech and Growth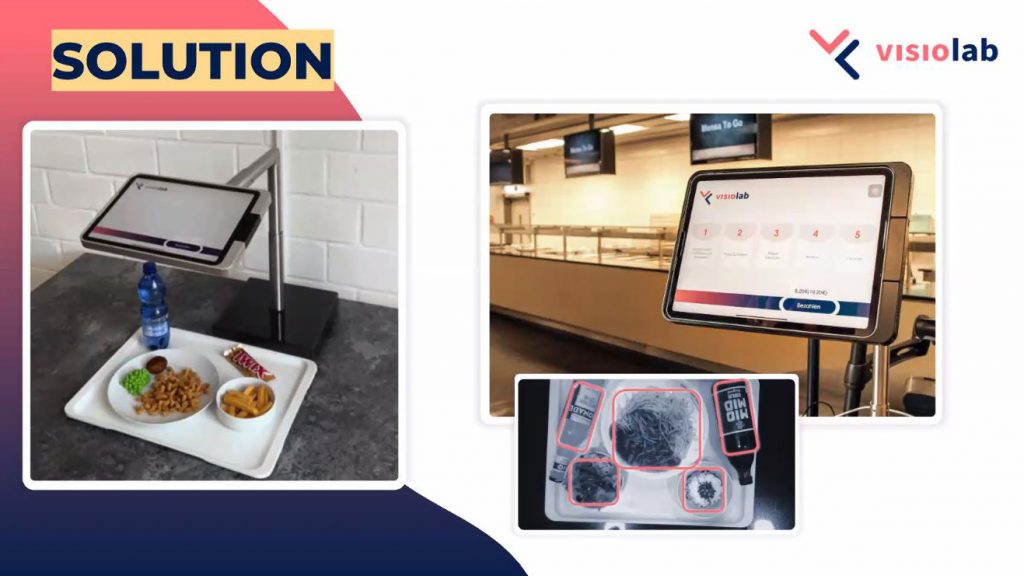 Start-ups and students had the chance to connect around the topics of food, foodtech, consulting and venture building. From a food perspective, Leo Bernard from Choco shared that they are "building a better system for all of us." Choco is creating a "global, yet local, food system that is resourceful, fair to the people and sustainable for the planet." Similarly, Mia & Ben Organic and Bella & Bona presented their food start-ups. Visiolab looks at food from a slightly different angle. They "aim to build human-centered artificial intelligence that makes life easier and more enjoyable for everyone." 
The consulting and venture building session was hosted by hy and Bridgemaker. hy supports "leaders in turning their organizations into 21st century winners." Bridgemaker invited the ESCP students and alumni to "build, create, laugh, sweat, ideate, and grow with us." We are already excited to see some of our ESCP students join these missions!
Georg Hauer from N26 and the Importance of Connections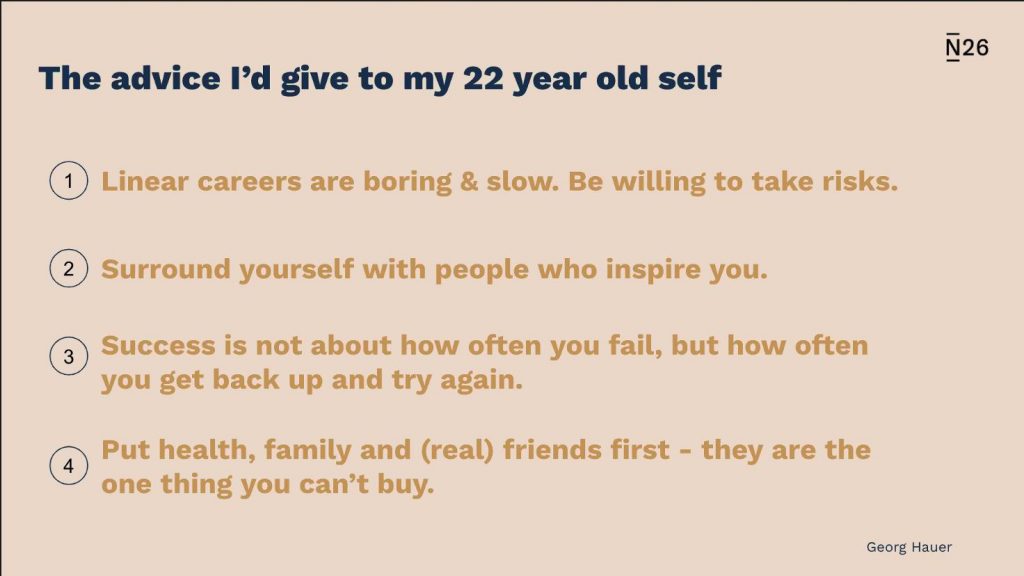 The highlight of the evening was the inspiring keynote speech by Georg Hauer. He is the General Manager DACH and Northern Europe at N26. He shared honest and inspiring insights into his career. For example, he gave 4 key pieces of advice he would give his 22-year old self right now. Next, he expressed that it was the people around him who had the biggest impact on his path. "It was the people that I met along the way that influenced me the most", he said. "The connections you make on the way really shape your way, therefore you should surround yourself with a variety of inspiring people."
How did he come up with this advice? "I took off three times in my career and met people that inspired me much more than people working in my field", Georg explained. "People inspire me most if they see the world a little bit different than myself." Similarly, he revealed that he does not hire for experience but attitude. Thanks Georg for being so open and helpful and to all participants for their smart input and questions. We are looking forward to the next E-Startup Fair and to conversing with you!